Yesterday I had the most amazing tomato basil soup! My little basil plant has been tempting me with big beautiful leaves since a few days. But I refrained from plucking them because I wanted to grow it further. Yesterday when I was pruning the plants I saw a large number of little leaves coming from below, so I realised it was time to enjoy the freshest basil I will ever have! And this is the first time I have such large leaves in my plant.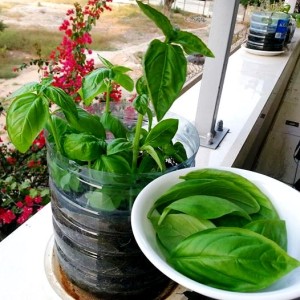 I gave some to my French neighbour. She was so happy, said "I'm just gonna make a tomato basil salad and enjoy the beautiful aroma and flavour of these." That gave me the idea of making some fresh tomato basil soup. I just wish my tomato plant had some ripe tomatoes as well! Alas I have to wait for them to bloom! Now I have made Indian style tomato curry soup, combining tomato with coriander, curry leaves and roasted capsicum, a lot of times, but I had never tried the all-time favourite combination of tomato and basil soup. This is a very simple recipe and the milk and cheese (which were a surprise element for me) make the soup very thick, creamy and oh! so tasty. All I wanted to do was lick down the bowl to its last drop! And that's what actually happened. The bowl looked exactly the same after the soup was finished as it looked before it had any soup in it! 😛 (Not good manners to lick down the bowl and not recommended in front of children.. but well who cares when you are on your own and don't want even a drop to go waste.)
Creamy Tomato-Basil soup
By Ashima Goyal Siraj
Prep time: | Cook time: | Serves: 2
6 tomatoes, blanched and pureed
1 onion, chopped (I used white onion)
4 cloves of garlic, chopped
5-6 leaves of fresh sweet basil (as you can see in the pic, I had big basil leaves. If you have smaller leaves, take more)
1/4th cup regular cream cheese, cut into small cubes
1 cup low fat milk
Salt and pepper to taste
2 cups water
2 tbsps olive oil
For the bread
One small Baguette, sliced
A little butter
2 tbsps grated mozzarella cheese
Blanch and puree the tomatoes. For the soup, I added a few sprigs of rosemary in the water while blanching the tomatoes.
In a deep pan, heat oil. Add onions and sauté for 3-4 minutes.
Add garlic, cook for a couple of minutes and then add the tomatoes and chopped basil leaves.
Add 2 cups of water. I used the same water that I used for blanching.
Bring the mixture to a boil. Add cheese and stir the mixture until the cheese is melted.
Remove from heat and using a blender, blend the mixture until smooth. I really love my stick blender for soups! Makes it so easy… no need to transfer to a blender and transfer again to the pan.
Return the soup to heat. Stir in milk, salt and pepper. Cook until a boil. Meanwhile preheat oven to 180C.
For the bread – lightly coat bread with butter and place in oven for 2 minutes. Remove turn them over, top with grated cheese and return to oven for another couple of minutes till the cheese is slightly melted.
Dip into the soup and enjoy.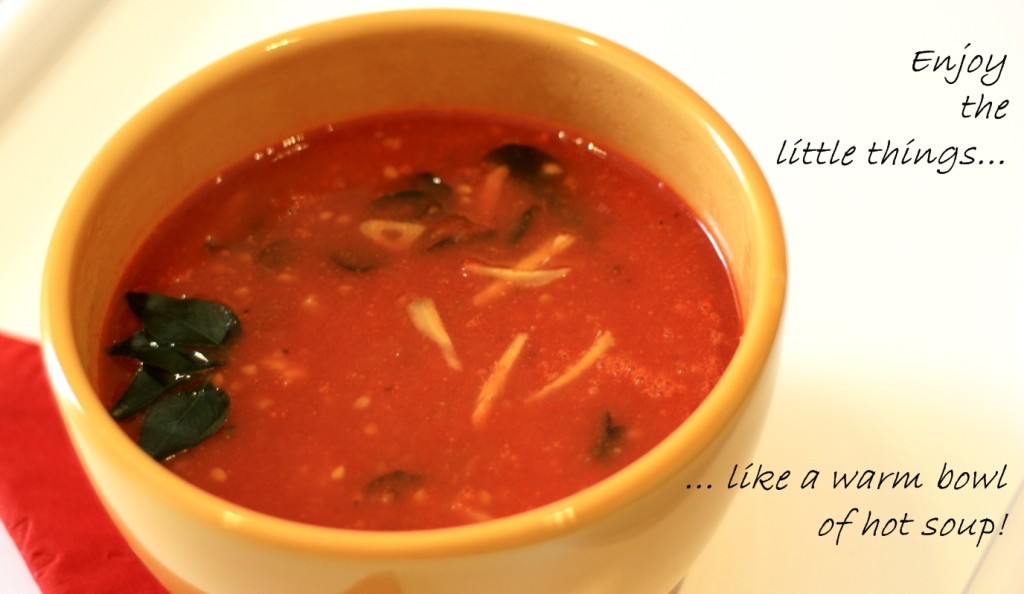 Every sip of this warm spicy tomato curry leaves soup takes me back to chilly winter evenings of childhood. Packed with warm earthy flavours; its a celebration of little things in life! Moreover it is our in-house medicine for cold and congestion. Sikander has been down with cold since yesterday and we are both strong non-believers in medicines for cold. Warm fluids and rest is all that the body needs to fight the cold. I think there is nothing that a warm bowl of soup can't make good.
It hurts me when I see a packet of "ready to make" tomato soup powder claiming "Homestyle". There is no substitute to a homemade bowl of fresh tomato soup. A powder cannot substitute for warm flavours of fresh curry leaves, freshly roasted garlic and ginger. Each sip of this soup takes me back to childhood and to the warm tomato soup my mom used to make. Back then there was no concept of "buying" packet soup. One there was no money and two it just wasn't there on market shelves. Life was so simple when soup was really homemade!
Cold or not, this Indian soup will warm your heart and tingle your taste buds anytime!
Tomato Curry Leaves Soup
By Ashima Goyal Siraj
Preparation time: |Cooking time: |Serves: 2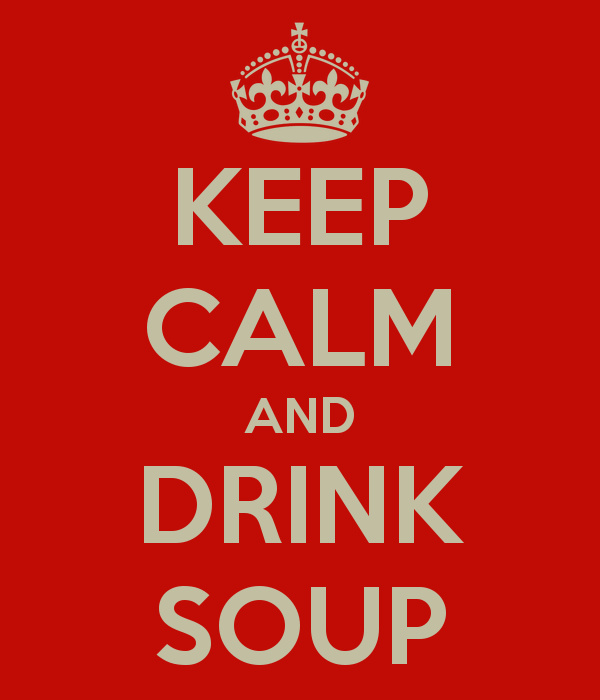 10 medium sized tomatoes,
3 cloves of garlic, chopped
1 inch ginger piece, slivered
10-15 fresh curry leaves
A pinch of sugar
Salt and black pepper to taste
2 tbsps Olive oil
Blanch and puree the tomatoes. (Boil the tomatoes in water until the skin comes off. Remove from heat. Once cooled, drain the excess water; remove the skin and puree the tomatoes. )
In a deep pan, heat oil. Add curry leaves and chopped garlic.
Saute for about 2-3 minutes, until you get the garlic fragrance.
Add the pureed tomatoes and ginger. Cook covered for 5 minutes
Season with salt, pepper and a pinch of sugar. (A pinch of sugar is generally added to tomato soups and red pasta sauce to cut the tanginess of the tomatoes.)
Serve warm in a bowl. Garnish with more curry leaves and ginger slivers.
We prefer to have this soup as is with curry leaves and ginger-garlic bits. But if you want a smooth soup; strain the soup into a bowl before serving to remove curry leaves and ginger- garlic pieces.
Keep Calm and drink Soup!
Friday was a beautiful monsoon day… It was raining since the night… Even at 9 in the morning, the sky was dark. So I decided that the weekend has come early onJ. I had a craving for poori bhaji and while I usually stay away from deep frying in my kitchen, that day the weather demanded an exception. After a fruit breakfast we had a heavy masala poori and potato bhaji brunch. Evening snack was again the leftover pooris from brunch with tea. It was still raining in the night and it was getting a little colder. A perfect setting for a hot soup, a warm throw and a cuddle. And I didn't want anything complicated. Tarla Dalal's Indian version of tomato soup or rather tamatar ka shorba provided the perfect recipe:). Tangy, tasty, warm and cosy!
Tamatar Ka Shorba/ Tomato Soup Indian Style!
Preparation Time: 5 mins| Cooking Time: 10 mins| Serves: 2
1 tsp Bengal gram flour (besan)
6-8 tomatoes, roughly chopped
5-6 curry leaves (Kadi Patta)
2 tsp Kashmiri red chilli powder
Salt to taste
1 tsp sugar
Juice of half lime
1 tsp ghee
½ tsp mustard seeds (rai/sarson)
½ tsp cumin seeds (zeera)
1 tbsp chopped coriander
Mix besan in half a cup of water. Mix well and keep aside.
Boil 1 cup of water in a deep sauce pan, add the chopped tomatoes and cook covered for 5 minutes.
Remove from heat and let it cool for some time. Add curry leaves and chilli powder. Blend the mixture to a smooth puree. I simply use a hand blender in the pan itself.
In using a separate mixer, transfer the puree back to the same pan and bring to a boil.
Add the besan mixture, salt, sugar, lemon juice and half the chopped coriander to the pureed mixture. Mix well and simmer for 3-4 minutes. Strain in the serving bowl. Keep aside.
Heat ghee in another pan and add mustard seeds and cumin seeds.
When the seeds crackle, add the tempering to the tomato shorba and mix well.
Garnish with remaining coriander and serve hot.
Soups make a great dinner choice during all seasons but in winters they make my heart go mmmm… I've been thinking of making roasted capsicum and tomato soup since sometime now but every time I brought home red capsicum, it got used up in pasta and never made it to the soup recipe:). This time I made the soup the day I came back from the grocer so that Sikander didn't have a chance to look through the vegetable drawer and say "hmm… red capsicum… let's make some pasta!"
Roasting gives a warm earthy flavor to vegetables. The burnt aroma and taste is what I love most of roasted eggplant also. The red capsicum and the tomatoes give this soup a fiery red color  lots of tangyness, little sweetness and lots of health benefits to top it all! This soup is ideal for diabetics and is rich in Vitamin A and C. My reference recipe for the soup was Tarla Dalal's Roasted Capsicum Soup.
Roasted Capsicum and Tomato soup
Preparation Time: 10 mins| Cooking Time: 15 mins| Serves 2 (as main)
2 red capsicums
4 tomatoes
2 cloves of garlic
2 bayleaves
½ cup skimmed milk
1tbsp cornflour
2tbsp Worcestershire sauce
A few drops of tobasco sauce
Salt to taste
Roast the red capsicum over flame. Keep turning, till the skin turns black all over. And I mean really black. Don't worry that your lovely red capsicum will lose its color. Trust me, it won't :). The skin will burn and become black and it will then easily peel off from the capsicum leaving behind a brighter red one! (See the picture)
Keep aside the roasted capsicum in a bowl to cool down.
Once cooled, remove the skin, stem and seeds and cut into quarters.
In a pan, heat about 3 cups of water. Add tomatoes (cut into quarters or 8 each), bay-leaves  and garlic cloves. Boil till the tomatoes turn soft.
Remove the bay-leaves and tomato skins (they would have loosened and many would just be floating on the water).
Add the roasted capsicum and puree to a smooth paste.
Mix cornflour in warm milk and add to the tomato-capsicum paste. Mix well.
Add salt, Worcestershire sauce and tobasco sauce and simmer the soup for a few minutes till it thickens.
Empty into soup bowl, garnish with fresh coriander and serve hot with warm bread for a complete meal.
Check out my recipe for homemade honey bread here. It goes great with soup as it's thick and slightly sweet. Mmmmm……
Also try..