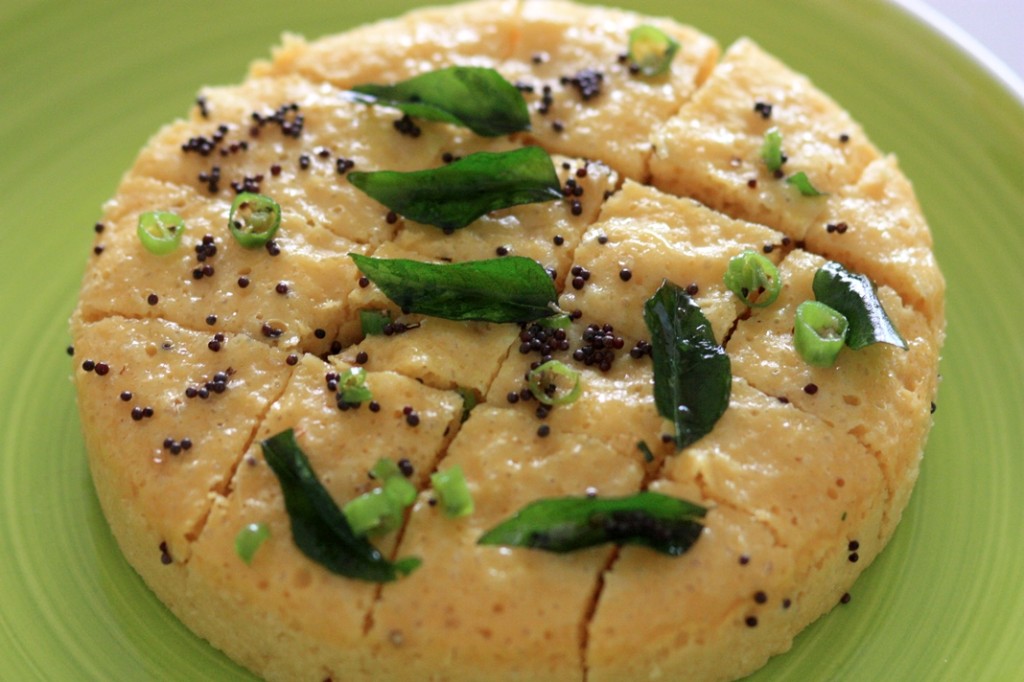 Why should you be making dhokla at home when you get such tasty ones right outside?
This was my sister's reaction when I called her to ask how long she steams her dhoklas for! 🙂
Ever since moving to Vadodara, I have been enamoured by Gujarati food and more so by the snacks like khandvi, dhokla, thepla, dhabeli etc and the dry snacks called farsan.
Every street corner is lined with hawkers selling delicious dishes not just from Gujarat but from all over the country! There is Bombay pav bhaji; madras idli and well we even go across the border with 'Chinese bhel'! 🙂 So whenever there is a craving, all one needs to do is step out of the house and take a turn!
But this time I wanted to make dhoklas at home largely because Sikander loves dhoklas and I don't trust the street shop for too much of hygiene. Even if hygiene is taken care of, as we often go to a reputed shop, they use a lot more oil than actually required because more oil means softer dhoklas that can be kept for longer. But if one is eating them immediately there isn't any need for much oil.
I don't know whether it's correct to call it khaman dhokla; because Gujaratis just call it Khaman and everybody else calls it Dhokla. But well that's the name Tarla Dalal used in the recipe I used as a reference.
Khaman Dhokla
Preparation Time: 10 mins (+20 for letting the mix stand)| Cooking Time: 15 mins| Serves 2
Ingredients for Khaman dhokla
1 cup Bengal gram flour (besan)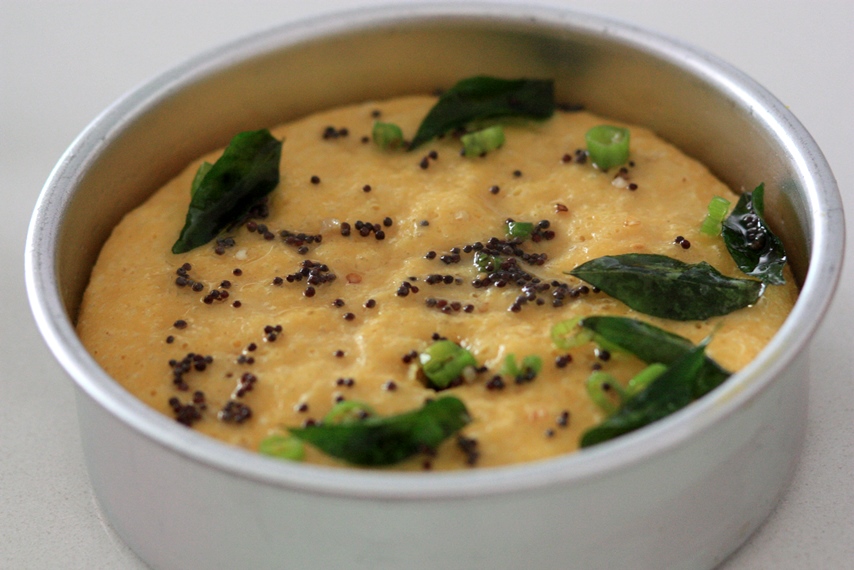 2 tbsp semolina (sooji/ rava)
3 tsp sugar
2 tsp fresh ginger paste
Juice of ½ lime
salt to taste
½ cup curd
2 tsp fruit salt/ ENO
Oil for greasing
Ingredients for tempering
1 tbsp oil
½ tsp rai (mustard seeds)
2 green chillies , chopped
a pinch of asafoetida (hing)
4-5 curry leaves (kadi patta)
Beat curd with ½ cup water.
Mix together all the ingredients (except for fruit salt) for the khaman dhokla in a bowl. Add the beaten curd and water mixture to make a thick batter. Add a little more water if required. The batter should just be able to flow down the spoon but not be very thin.
Let the batter stand for 15-20 mins.
Grease a tin with oil.
Now add the fruit salt (or ENO) on top of the batter. Add 2 tbsp of water on the fruit salt. It will immediately form bubbles. Mix it well and pour the batter into the greased tin.
Steam in a water bath on gas for about 10-12 minutes. Or in a microwave for 4-5 minutes. You can also use an idli maker for making dhoklas. Once the dhoklas are done, remove from the steamer and keep aside.
For the tempering, heat oil in a small pan. Once the oil is hot, add asafoetida and mustard seeds. When the seeds crackle, add green chillies and curry leaves. Sauté for a few seconds and remove from heat.
Add 2 tbsp water to the tempering. Mix well and pour evenly on top of the prepared dhoklas.
Cut the dhoklas into equal pieces and serve with green chutney.