"Dinner is better when we eat together"
More often than not dinner is the only meal where the entire family sits down together. Breakfast is always in a hurry and lunch and evening snacks are usually at office. A dinner plate is so much more than just food. It's people coming together, it's conversation, it's story time. That's why I call this series of dinner menu planning 'Dinner Plate'.
Every time I entertain at home, I spend a good amount of time deciding the dinner menu. Also, I have to do this planning at least a day before so that I can shop for whatever that may be required and is not there in my pantry. Mostly, I go to my recipe book, this blog and/or to my cookbooks to find that one dish which will the hero of the day and then I plan the dinner menu around it. Sometimes there is no one main dish but 2-3 dishes that go well together without one overpowering another.
It's one thing to make a single dish and write it's recipe down. But when it comes to meal, planning a menu gets tricky. That's why I decided to start this series of 'Dinner Plates' where I can post about my dinner menus. A simple every-day meal in my home will consist of one dry and one gravy dish with chappati and/or rice and some dessert. We go a little elaborate on weekends and when entertaining :).
Hope you find my combinations interesting. I will keep adding more as I move ahead with my cooking and meal planning. I would love to hear your menu combinations and also suggestions on how I can modify mine…
————————————————————————————————————————————
A little bit of effort and a lot of taste! This dinner is a combination of Indian and Western cuisine. The flavours/ spices used are all Indian while the entries themselves are all Western. A good for sit-down relaxing evening. Pair with your a bottle of red wine. Here we are drinking Cabernet Sauvignon.
————————————————————————————————————————————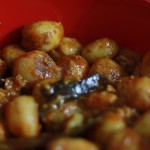 Indian Vegetarian Dinner Menu -1
I didn't realise that the very 1st post on this blog was actually a full dinner menu! 🙂 The image just shows the main dish around which the whole menu was planned. I have given this menu a very functional name, but I'm sure you can give me suggestions of a more creative name! Looking forward to them :).
Starter: Fried idly with coconut chutney
Main:
Cucumber; Onion and Tomato Salad
Plain Parantha (A kind of Indian Bread)
Desserts: Kulfi (Dry Fruit Ice-cream) and Mixed Fruits (for the health conscious!)
————————————————————————————————————————————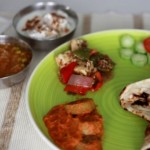 Indian Vegetarian Dinner Menu -2
Stuffed gourd is the hero of this dinner plate but the cottage cheese wasn't any less. People more or less forgot the unassuming potato gravy! And the Quadruple Chocolate Cake in the end ensured that it had the lasting memory 🙂 Since there was so much cooking; we went easy on starters with just a few papads and frozen Kebabs and also since there a lot of people, we ordered naan from outside.
Starter: Baked papads and frozen veg hariyali kebabs
Main:
Potato and peas in tomato based gravy
Naan (Indian bread)
Tomato and Cucumber salad
Dessert: Quadruple Chocolate Loaf Cake
————————————————————————————————————————————