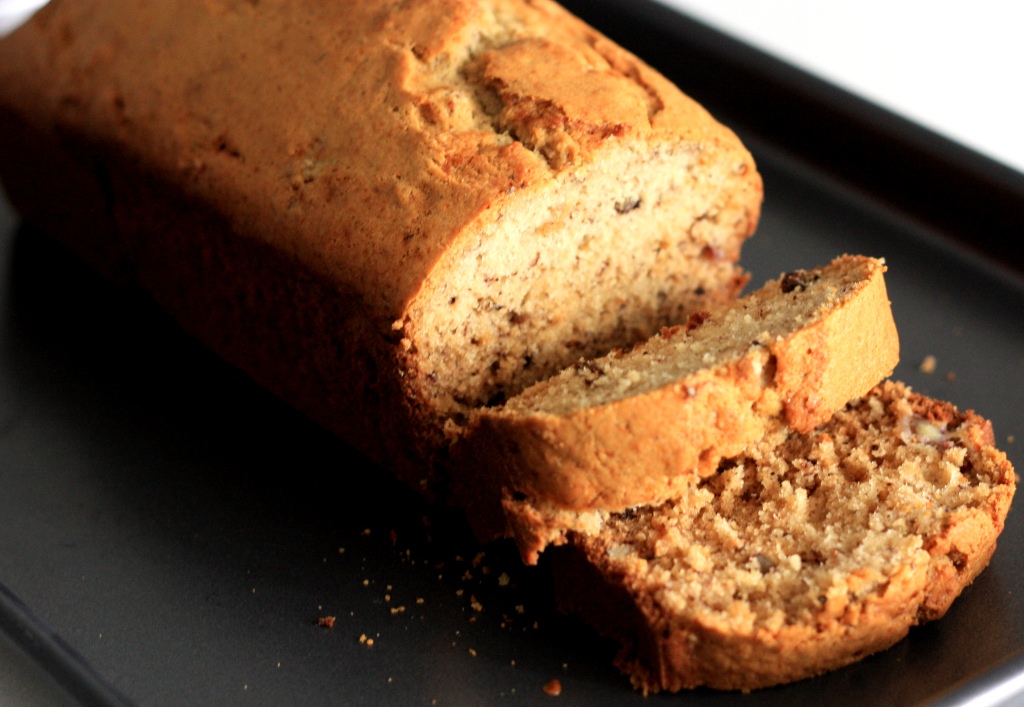 This banana bread subtly infused with warm winter spices like cinnamon, nutmeg, cloves, cardamom is inspired from a fellow blogger's Chai spiced banana bread recipe. I had these two very ripe bananas which were a bit too ripe for eating as is and I didn't want to throw them out. My usual fix for over-ripe bananas is banana pancakes, but this time I wanted to try something new and a search led me to Jennifer's blog. She has some awesome banana bread recipes with different additives. Using her basic banana bread recipe as a base, I made my own spice mix and also added roasted walnuts to give the bread an extra crunch.
It just so happened that the time of me taking the bread out of the oven and dear husband coming home from office coincided. The aroma led him straight to the kitchen and he refused to do anything until I gave him a slice of this warm bread.
"There is nothing like the taste of fresh bread straight out of oven!"
Winter Spiced Banana bread
Preparation Time: 20 mins | Baking time: 1 hour | Makes 10-12 slices
| | |
| --- | --- |
| 1½ cup all-purpose flour (maida) | 1 tsp baking soda |
| ½ cup (~80gms) softened salted butter | 2 tsp spice mix (I used a mix of nutmeg, cinnamon, cloves and cardamom powder) |
| ¾ cup castor sugar | 1 cup mashed bananas (the more ripe they are, the better it is 🙂 ) |
| 3 eggs at room temperature | 1 tsp vanilla essence |
| ½ cup yogurt/ curd | 1/3 cup chopped roasted walnuts |
Preheat oven to 180C (350F) and butter a loaf tin.
In a mixing bowl, beat together butter and sugar until light and fluffy (~2 mins)
Beat in eggs, one at a time, incorporating them well after each addition
Add flour, baking soda and the spice mix to the butter mixture and combine all well.
Add mashed bananas, vanilla essence and yogurt and mix together. Beat on low speed. Gently add in the walnuts.

Take a minute to enjoy the aroma of this beautiful dough! 🙂

Pour into the prepared loaf tin and bake for about an hour until a skewer inserted comes out clean.
Take out of the oven and leave to cool on a wire rack.
If you have impatient crowd (like mine) at home, then carefully invert the bread on a dish and dig into the goodness of this warm spiced banana bread!
I've got to thank Dipika for gifting me this loaf tin which has been put to so much use lately and has my other cake moulds crying in the shelf.